– I could totally relate, reading it in our tiny patio on Procida, and on our huge blue-tiled deck in Amalfi. And then crowning the trip with Durrell's jewel-like memoir of Corfu in the '30s, which is clearly indebted to Wind – at one point the Count remarks that he is "talking like a Norman Douglas character." Of course – and how gracious of Durrell to credit him.
7-23-07
We finally got together with Amy & Ernie, and saw their photos from the trip. One thing we talked about was the Palatine Hill, and the Orti Farnesiani – the ruins of a beautiful and peaceful 16th century garden, scattered with antiquities.
I'd certainly like to learn more about this. Pope Paul III and his nephew Cardinal Farnese had a Villa here in the mid-1500s that was in some ways a modern (Renaissance) update of the ruined palaces built 1400 years earlier which loom above the Forum.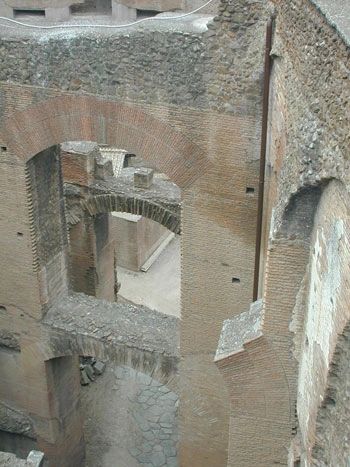 Portions of the Villa Farnese are still here on the Palatine – but I get the impression that, as the centuries passed and the Farnese family died-out, the Villa came into disuse, was despoiled and ultimately sacrificed to the more important archaeology lying beneath it.
#
Reading the amazing Rome Art and Architecture book by Marco Bussagli that my friend Scott gave me before the trip, one thing I wanted to acknowledge is how much we missed! It's really unbelievable – not only the big things, all the churches we didn't see, starting with Santa Maria Maggiore – but also the many museums, buildings, antiquities, parks and places of interest we must save for our next visit. One thing I noticed walking around was, we would stop every 50 feet or so and exclaim 'Look at that!' It might be a plaque on a wall, or a religious shrine – or a view into a courtyard through a doorway. What a stimulating place!
#
One thing B. and I thought was funny was, inside the Pantheon hearing some Christians complain about how they had been persecuted by the Romans. Thinking again of the Jews, we laughed to ourselves, saying "Yeah we Christians were persecuted - one time, 2000 years ago!" I guess this New Testament memory is still fresh.
#
7-31-07
I'm re-reading Durrell again – Monsieur for the umpteenth time, about Avignon and Alexandria. Absolutely gorgeous writing, to be savored slowly like a fine Armagnac. But he mentioned swallows over the Camargue, and I suddenly recalled an early morning in Amalfi. I was the only one up, and it was already warm on our blue-tiled deck,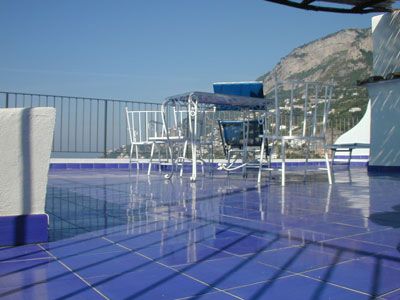 with the sun glinting on the bay below. I was reading South Wind, but I kept hearing shrill piping cries and seeing movement out of the corner of my eye. I thought they were bats, but how was that possible in this brilliant Tyrrhenian light? They were swallows, but acting so strangely I watched them for many minutes as they skimmed out over the bay before looping back and swooping up to a certain high room in the other wing of the Hotel Luna. There were maybe half a dozen of them, and they buzzed the little balcony repeatedly, boomeranging an impossibly tight turn before shooting back out over the bay while emitting their high-pitched shrieks. Were there tasty insects up there balcony that they were eating? It was an intriguing early morning mystery in Amalfi.
#