22:00. Our dinner expedition to the Trattoria da Giggetto next to the Portico d' Ottavia in the ghetto was successful, with fried carcioffi & salt cod, roast lamb, penne arrabiatta and spaghetti carbonara.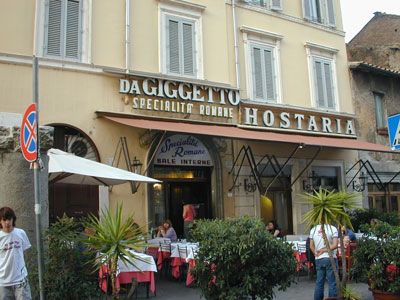 We finally saw "the Typewriter" (as my French friends call the Vittoriano.) My favorite monument on my last trip, it is partially draped now during restoration.
We walked down to the river in the dark on the far side of the island at the Ponte Fabricio and had it all to ourselves. Buona notte.
#
Lunedi. Our exhausting, amazing and rewarding private tour of the Vatican was a complete success with our tour guide Romina, a nice woman with a great knowledge of art history who spoke English very well. We started with breakfast in our apartment followed by a quick hike to Saint Peter's, where we asked a man to point us toward the Musei Vaticani and he directed us out of the square to the north, where we quickly walked in the street past the longest line of people I have ever seen in my life. It went on and on, and finally we got to the entrance, and there was this woman holding a sign with our name on it. Buono!


So we went into the Vatican Museum, which is vast and rich, full of amazing Greek and Roman statuary,
long decorated hallways (the Map Room, etc.)


all leading to the Sistine Chapel, which of course is a world treasure and monument to the artistry of man: particularly Michelangelo, Botticelli and the other Renaissance masters who conceived and executed it.
Then into Saint Peter's, the biggest and most ostentatious church in the world. Really unbelievable. I had mixed feelings only to the extent that it is such a monument to the power and wealth of the Popes and the Church. And there are paradoxes of scale: based on size and splendor, how much more am I expected to love St. Peter's compared to that little gem of a Santa Barbara church next to Campo de' Fiori which that kind gentleman ushered us into when M., B. & I were the only ones in there? Or the two gorgeous Santa Maria churches we saw and loved, which are just two more transcendent expressions of faith and spirituality in this City of Churches? Just rhetorical questions – the whole thing with its catacombs was truly amazing. But what I was just going to say was, this whole city is not only a work of art – its thousands of small shrines and observances of the Saints everywhere, on the walls of its buildings and in the streets and alleys, make Roma one huge living Church!
Coming back, we took B. up into the Gianicolo, then back down into Trastevere to our air conditioned apartment where the dishwasher is on. I am ready for a nap!
#
Midnight on that same day-and-night, and now it's Martedi 26-6-07, so I just turned 50 in Roma! Buono! We had a great evening, seeing more amazements and hooking-up with our friends & neighbors Amy & Ernie and their three young daughters. We started our walk on the far side of the river and emerged into the Piazza Farnese. Stepping through Campo de' Fiori, we made our way into the incredible Piazza Navona – is that spectacular white church St. Agnese?
The Romans had track meets here! We had dinner outside in the Piazza Copelle – B. had rabbit. And then we found the Pantheon at dusk. We were shocked, staggered, impressed and pleased to find this living reminder of the glory that was Roma – and still is!


What a city – I was telling B. you really need a fisheye lens to photograph these buildings, because when you turn a corner there they are and there's no way to back up far enough to get them all in the picture! That's where we hooked-up with Amy & Ernie: at the fountain in front of the Pantheon, and we quickly repaired to a nearby gelaterria before taking a walk past the Marcus Aurelius column in the Piazza Colonna to the Spanish Steps, which were crowded with teens and 20-somethings from all over Europe. We will see Amy & Ernie again in a few days and it was getting late – we walked all the way back to Trastevere (at B.'s insistence) down the Via del Corso to the Typewriter, then zigzagged the dark streets past the Turtle Fountain to the ghetto. We handed B. the keys to the apartment, and M. & I walked down to the river, a fantasy land of lights, crowds and small shops where I inhaled a cold Warsteiner on draft. It's almost 12:30 and time to crash.